Published!  A story I wrote about my personal experience with cancer was published in a cancer newsletter, What Makes You Stronger.   The full version is below for your eyes only:
I remember it well.  It was the 10th day of work at my new job at one of the US' top 10, fast-paced public relations agency.  It was late Friday afternoon.  I was engrossed in developing a new business proposal when the phone rang.  The voice was that of my breast specialist.
"Sharon, I didn't want to let the weekend come without calling you first," she said.  "The core biopsy shows that you have cancer.  My advice is for us to remove the tumor as soon as possible."
That fateful day.  That fateful phone call.  I was 33.  I had breast cancer.
Just a couple of weeks before, I had felt some pain and a lump at the 12 o'clock position of my right breast.  Upon discovery, I found my way to the breast specialist.  She announced confidently that the lump I felt was probably fibrodenoma, a benign breast lump that was no cause for alarm.
"However," she added, "just to be safe, I'll do a needle biopsy for you."  Well, that needle biopsy led to a core biopsy, and very quickly, to my cancer diagnosis.
After hanging up the phone, I walked out of my office, dazed.  I blurted out the news to Mary, my only colleague left in the office that Friday evening.  Mary leapt to her feet, gave me a big, protective hug, and tears began rolling down my eyes uncontrollably.
Soon, word spread to my circle of family, friends, colleagues and the larger community.  "What?!  This can't be.  You're too young!" was a typical reaction.  Indeed, life has thrown me a sour, sour lemon.  What confronted me next was the reality of facing my new life as a cancer patient head-on.
I had a lumpectomy within a week of my diagnosis, and because of my relatively young age and the fact that we haven't had kids, the doctors recommended that I go through Invitro Fertilization prior to starting chemotherapy and radiation.  I injected myself at 10pm sharp every night to spur the proliferation of eggs in the uterus.  Under my husband's loving watch, most of the injections were done in the safety of our home.  But on a memorable evening, with syringes in toll while on a company retreat, I wandered into public restroom in a crowded Las Vegas Hotel, and proudly carried out my nightly duty.
The IVF procedure was successful, and the doctors fertilized eight embryos.  So now, when anyone asks if I have kids, I tell them, "I have eight frozen ones!"
As soon as IVF was over, I started chemotherapy, one session every three weeks.  As soon as my hair started falling, I found myself on the barber's chair, chopping them off before I lost them all.  Wigs and hats and scarves became my constant companions.  Throughout the chemo sessions, I continued working a full-time, sometimes-overtime schedule, with just a couple of days off around the chemo sessions.  I don't know how I did it.  I pray never to have to go through this again, and pray for this dreaded disease not to befall upon any more family members.  After all, I was the third, after my parents, in my immediate family of five with a cancer diagnosis.
Radiation followed chemotherapy, and that lasted for almost two months.  When I thought life would resume to normal after radiation, I was greeted with another lemon – a scare on my MRI report, which then began a series of more doctors' appointments and tests.
Is that another cancerous growth close to my original surgery site, or not?  We didn't know for sure and the tests were inconclusive.  My only option now was to wait and go through another MRI in six months.
But in the meantime, I have decided that "when life throws you a lemon, let's make lemonade!"  So, with the support of some friends and family, I threw a "Kiss Cancer Goodbye" party.  We rented a venue with a magnificent view of the lake.  A couple of girlfriends contributed with delicious, healthy, gourmet foods.  We had an on-site chair masseuse for all who desired relaxation.  Another friend, a belly-dancing teacher, dedicated a "dance of health" to me.  Then came a tear-jerker video presented by my journalist friend.  All present responded with love, and some with happy tears.  That was the best day of my life since my cancer diagnosis!
Now, on to making more lemonade.  After radiation, I was recruited to join the Exercise for Bone Health Clinical Study organized by the Northern California Cancer Center.  This study randomizes post-chemo treatment cancer survivors into an exercise or control group.  I was randomized into the exercise group and have since gained a personal trainer, a free YMCA membership and a three times a week exercise regimen.
Throughout the study, I feel I'm contributing to the welfare of future cancer survivors.  And for the very first time in my life, I am taking exercise seriously and benefiting greatly from it.  Radiation fatigue? No more!  Stronger bones?  Definitely!
Now, is trouble brewing?  Is cancer knocking?  Let's make more lemonade!
###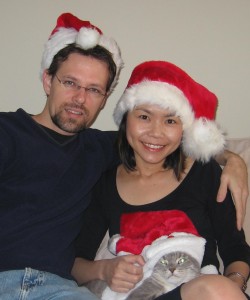 Biography
Thankfully, that suspicious lump turned out to be benign and Sharon has been cancer-free for three years now.  Sharon is a public relations/management consultant and writer.  She lives in San Francisco with her husband, Dan, and cat, Pandora.  She can be reached at www.shotofinspiration.com.